Paul Larsen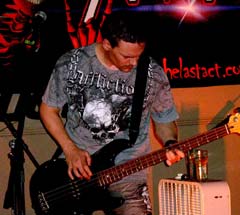 Bass and Backup Vocals
Vital Stats
Birthplace: Calgary, AB, Canada
Where you grew up: Cochrane, Alberta, Canada
Marital Status: Single
Brothers and Sisters: Twin brother (Jeff obviously?), older brother as well
Height: 5'9"
Weight: 156 lbs
Eyes: blue
Hair Color: brown
First Band: Ruine
Other Bands: TLA and various other no name projects.
Favorites
Band/Album: Megadeth – The System has Failed; Pink Floyd – The Final Cut
Person in another band: Steve Harris – Iron Maiden; Geddy Lee – Rush
Song(s): Vital Signs – Rush; Phantom of the Opera – Iron Maiden; The Gunners Dream – Pink Floyd; Kill the King – Megadeth; The God that Failed – Metallica
Book: The Disappearance of the Universe – Gary R. Renard
Movie: Unforgiven
Meal/Food: Mexican et al
Politician: WTF? Canadian Action Party – Connie Fogal and Melissa Brade
Holiday: I hate them all equally
2 Songs from "Still Standing": Habitat for Insanity; Burning Stack; No Chance…Again (I couldn't just pick 2!)
TV shows: Stargate Universe; Dexter; Breaking Bad
Historical Figure: Tommy Douglas or any of the founding fathers of the U.S.
Hobbies: Computer Gaming
Favorite tool and why: As in a person? Otherwise, a nail-gun. You need a diagram?
Most important life lesson: Adapt and bend to whatever direction the wind of life is blowing today. All giving is receiving.
Occupation (current): Senior Information Systems Solutions Architect
Vices:Smoking, Caffeine, Computers, Women's butts
Other Info
How did you end up here: I thought I was done with music back in 2001, when I quit The Last Act. I was going through some pretty rough things in my life at that point. When Jeff asked me come back and help with the new album I was a little hesitant but agreed to help. When I started getting back into it, I couldn't believe I ever chose to leave. I had lessons to learn and experiences to have to unlock the true potential of my writing.
Interesting story from your life related to music: The strongest memories in my life and life benchmarks are all related to band performances. The one that sticks out in my mind was Bedlam 6. A musical gathering out in the middle of nowhere for July long weekend, where we had setup the stage, and all the sound and light rigs. It proceed to rain for the entire weekend, but it was a great time nonetheless. Its not all that funny, but that is one I will never forget.
Equipment you use: SWR and Fender TB1200 head. Mesa Boogie stack and Fender TB610 Cabinet. G&L L-1000 (1982), Rickenbacker 4001 Series (1981), Rickenbacker 4003 Series (1997).
Do you believe in Conspiracy Theories: I take everything with a grain of salt. Truth is truth and it will still be the truth whether I choose to believe it or not.
s

s

s

s

s

s
s
s